Transforming the IT Operations Management experience for you and your teams.
We understand the challenges of running smooth IT operations and keeping expenses down. That's why we've designed a unified operations platform with a centralized dashboard and configurable alerting.
OpExpert supports you in saving costs and streamlining all of your routine tasks. With decades of expertise in the field, we are familiar with the inner operations of IT teams of all sizes: we know what your end-to-end stack looks like, and how your daily workflows operate. We've taken those tools and integrated them into a platform that enables end-to-end visibility.
Thanks to this seamless integration, you can now automate your routine tasks and collaborate effectively with your teammates. You'll spend less time on monotonous and mundane routine activities and be freed for your strategic initiatives.
OpExpert is driving transformation of the IT world with you in mind.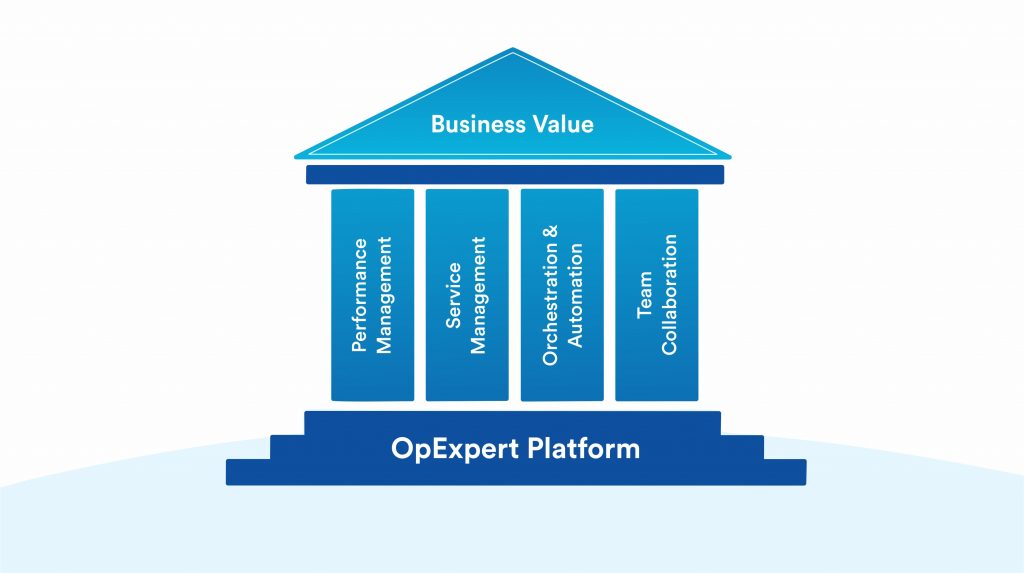 Unified Management
Robust platform with multiple integration points
Out-of-the box integration with dozens of tools and solutions
Easy integration with any existing solutions through open APIs
Interactive dashboards based on a centralized big data repository
Reduced Manual Effort
Automation of repetitive routine tasks that free up time for strategic initiatives
Configurable workflows and pre-defined runbooks
Simplified automation for numerous use cases
Proactive alerting with actionable recommendations
Dynamic incident management with intelligent routing
Effective Collaboration
Feature rich communication capability
Complete collaboration with internal & external stakeholders
Shared team calendar to collaborate on activities and projects
Central documentation repository for team access
Enhanced Business Value
Improved infrastructure availability leading to accelerated monetary and reputational gain
Comprehensive reports supporting decision making & compliance auditing
In-depth analysis through rich contextual data
Timely proactive alerts sent via preferred channels
Customer and end-user satisfaction through enhanced service levels
High ROI
Cloud-based service with no hardware or software to procure and maintain
Instant delivery with no lead times
Pay-as-you-go (PAYG) model with no hidden costs
Low operational costs with no upfront investment (CAPEX)
Flexible and scalable with open source components
Performance Management
Enhance the performance of your infrastructure with integrated network, log and configuration management.
Service Management
Enhance business value with automated incident, problem and change management.
Orchestration & Automation
Automate the entire process and never get bothered with the routine tasks again.
Team Collaboration
Collaborate on tasks and projects both with internal and external teams.